Steel Stud Framing Services In Calgary
At 51 North Interiors, we specialize in high-quality steel stud framing services in Calgary. Whether you require interior framing for walls and partitions or robust exterior framing for structural elements, our experienced team is dedicated to providing efficient and precise installations. Discover the advantages of steel stud framing and how our expertise can transform your commercial construction project.
Our stellar track record includes serving esteemed clients like Planet Fitness, Subway, and Jollibees, which underscores our reputation as a trusted and reliable company in the industry. If you're looking for a proven partner to ensure the success of your steel stud framing project, look no further.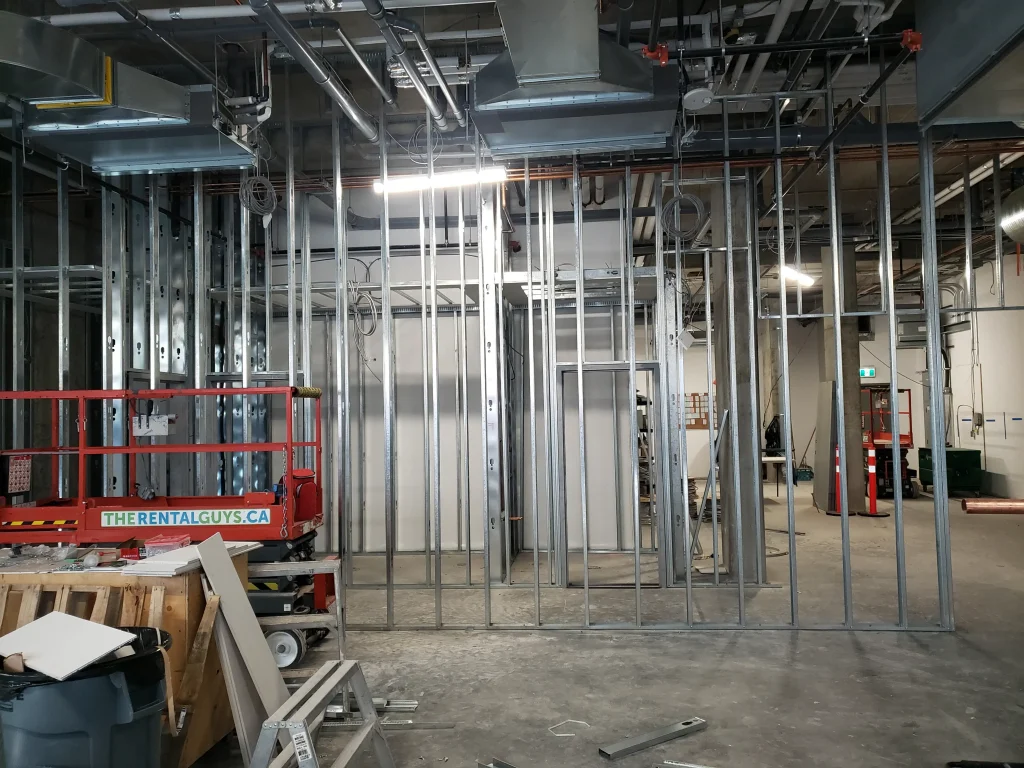 Why Choose Steel Stud Framing?
Steel studs provide superior strength and durability compared to traditional wood framing. They won't warp, twist, or rot over time, ensuring a long-lasting and stable structure for your project.
Steel stud framing is non-combustible, offering excellent fire resistance. This enhances the safety of your building and provides valuable time for occupants to evacuate in the event of a fire.
Steel studs are manufactured to precise specifications, resulting in straight and level installations. This guarantees a professional finish and eliminates common issues like uneven walls or sagging.
While the initial investment may be slightly higher, steel stud framing offers long-term cost savings. Its durability and minimal maintenance requirements reduce the need for repairs or replacements, saving you money in the long run.
Components of Steel Stud Framing
Metal stud framing consists of two primary elements: studs and tracks. The choice between lighter and heavier gauge studs is determined by their role in supporting structural components, whether it be floor joists or wall structures.
Steel stud framing stands out for its eco-friendliness, as it minimizes waste by offering a range of sizes and utilizing recycled materials in its construction.
The critical factor in upholding structural integrity lies in the professional installation of the system, which includes the proper connection and selection of various stud types and supplementary components like headers and sliders.
Request an Estimate For Your Steel Stud Framing Project
Ready to get started on your steel stud framing project? Contact us today to request a detailed estimate. Our experienced team is here to answer any questions you may have and provide expert guidance throughout the process. 
Don't miss out on the opportunity to benefit from our top-notch steel stud framing services. Click the button below to request a consultation and take the first step towards a successful construction project.